5 Family-friendly Accommodations in Seoul
So you've made the decision to bring the whole family to experience Seoul for a much-needed vacation at the end of the year, hoping for a nice cooling winter getaway. The flight has been booked and you know the hot spots you want to check off on your list. And now, the conundrum — where to stay?
Seoul is as developed a cosmopolitan city as they come, so you'll be sure to find a host of accommodations to stay at. Ranging from exquisite hotels to quality Airbnbs, and even a luxurious traditional Hanok (traditional Korean house), here's our picks of some of the top accommodations for the entire family.
Hotels have been on the back end of some decline with the rise of Airbnbs over the past couple years but when it comes to good quality accommodations for families, hotels still reign supreme for many.
Image of Lotty Lorry Room with image courtesy from LOTTE HOTEL
Their signature character Lotty Lorry rooms are a hit among the kids. Lotty and Lorry are of course the mascots of Lotte World Adventure, the famed theme park in Seoul. Designed in bright colours with soft toys of the mascots and a cute cartoon-y decor, it's certainly a room that will be nothing short of memorable for your kids.
With the stamping grounds of Lotte World Adventure theme park just outside the hotel's doorstep, it's a dream vacation for a family with small kids.
Book now
Most importantly for the kids, the hotel has a fully utilised outdoor space which is a swimming pool in the Summer and wait for it, an ice skating rink in the Winter. If you're heading to Seoul during Winter, it's time to lace up those skates at Grand Hyatt Seoul.
Book now
Airbnbs have revolutionised the accommodation game for years now and it's not difficult to see why with prices that are nearly unmatchable by hotels. For families that want the "home away from home" feel, these Airbnbs will do the trick.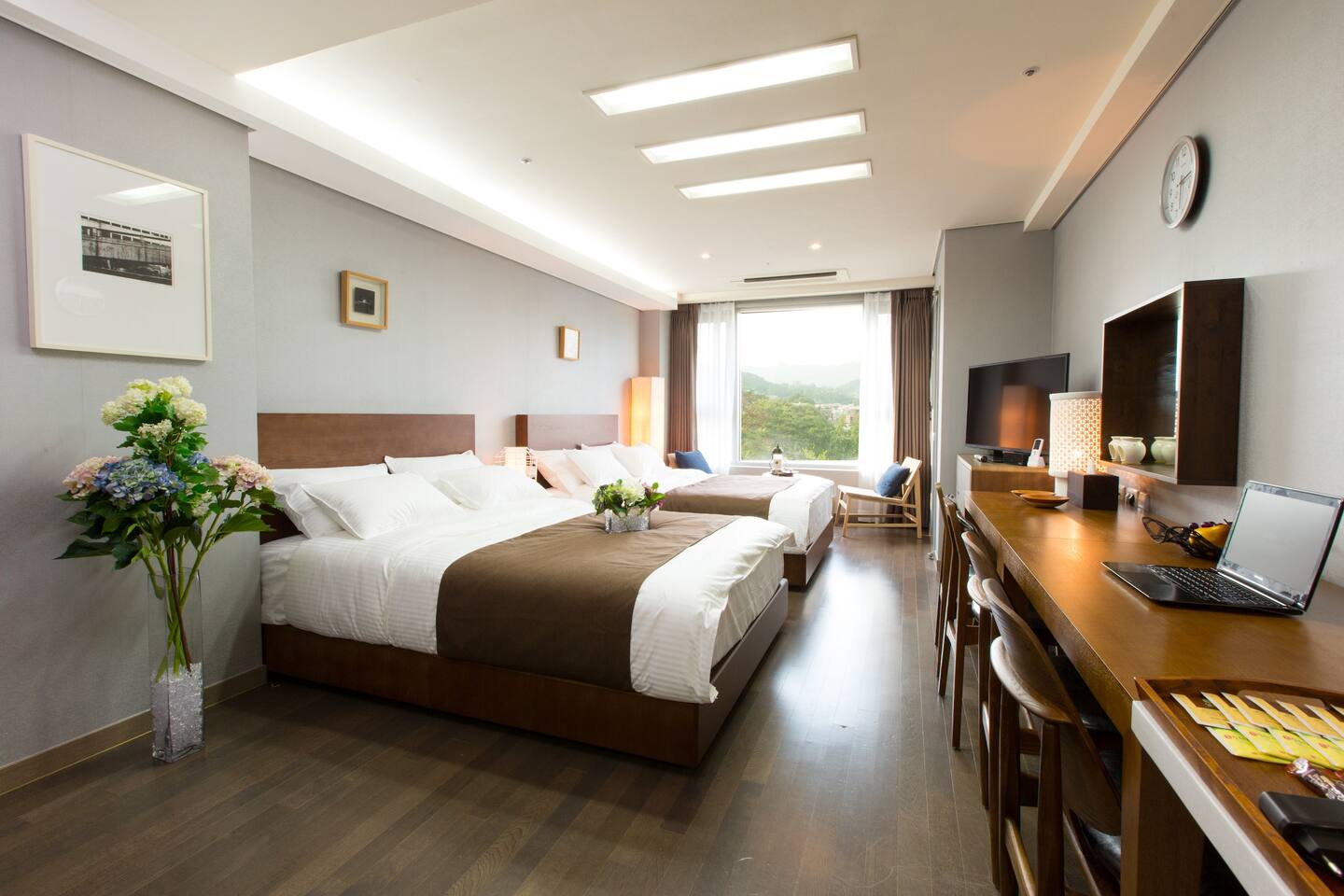 This Airbnb is an apartment suite that is big enough for the whole family and then some. Able to accommodate up to 5 guests, this apartment suite has the look, feel, and even some of the amenities of a hotel.
Add on a stove, microwave, dining utensils, and a washing machine, there's everything you can find for perhaps an extended stay in Korea. It's an apartment suite for the family, and its location near Gyeongbukgung Palace would mean it's relatively near the central hubbub of Seoul but not too crowded at night to disturb for a family's night rest.
Book now
Henry & Bonnie's Apartment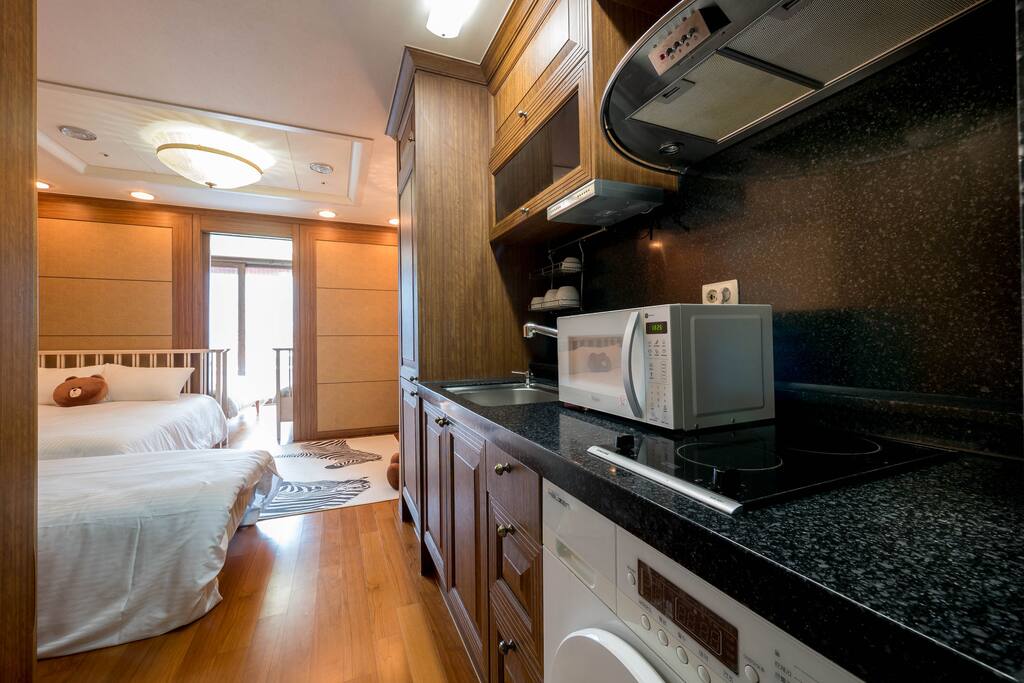 Location, location, location.
It's all about location and convenience with this Airbnb apartment. Tucked in the busy streets of Myeongdong, everything in the shopping enclave are minutes away from the apartment. Oh, you won't have to worry about having a big family because the listing can host up to 7 people.
There are also plushies of the iconic Line mascots, Brown and Cony, injecting some youthfulness into the apartment, something that kids will appreciate I'm sure.
Book now
If you want to have a fresh accommodation experience for your family, then a stay traditional Hanok would be due. The dense city of Seoul is inundated with towering skyscrapers and where hotels are a dime a dozen, it's safe to say Seoul is as modern as they come.
Hanoks, however, are traditional Korean houses which bring you back to a long bygone era of Korean history. Staying in a Hanok is an experience that is off the beaten track as many say, something that would be memorable for the whole family.
Rakkojae is one luxury Hanok reminiscent of an aristocratic Chosun Dynasty home. The place in Seoul has a history of about 130 years, and stepping through the front gates of Rakkojae makes it feel you've stepped into your very own historical Kdrama.
If you're worried about how Rakkojae compares to hotels and Airbnbs, have no worries because all the basic amenities are available here including WiFi! Each room features a jade stone ondol floor, and onsite is a yellow mud sauna facility along with a wide range of cultural immersion programs from kimchi making to a traditional tea ceremony.
So, if you truly want something out of the ordinary, away from the typical hotels and Airbnbs, staying in Rakkojae is the way to go.
Book now
Other Stories You May be Interested in